Physiotherapy Downtown Vancouver
We have a great team of Physical Therapists at FORM who believe in a holistic & integrated approach to rehabilitation. This means looking at your body as a whole to get to the root of the problem and fixing the symptoms as well as the cause. Our Physical Therapists use a variety of techniques, some of which include manual therapy, acupuncture, exercise therapy, electrical muscular stimulation & ultrasound.
Your first physiotherapy session will be 45 minutes long. During this session your physiotherapist will conduct an in-depth assessment to collect your history, assess the problem and perform appropriate treatment. Follow-up sessions are 30 minutes long and will focus on treatment of your injury. All of our Physiotherapy sessions are one-on-one and you will be the only patient the practitioner is seeing at that time because you deserve our undivided attention!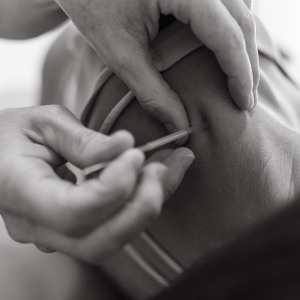 Our entire team of practitioners consist of Physiotherapists, Registered Massage Therapists, Pilates instructors and Yoga instructors who all work closely together to make sure you get the right treatment at the right time during your recovery. If you decide to utilize our entire team we will stay in constant communication with each other on any developments or insights to your particular case. With our model for rehabilitation, all your practitioners are on the same page and working towards a common goal. Our system makes your rehabilitation convenient, efficient and enjoyable – all you have to do is show up and focus on getting better!
The benefits of our integrated and holistic approach can be seen in various aspects of recovery including neuromuscular issues, pain reduction/elimination, surgery prevention, as well as improvements from specific ailments such as arthritis, scoliosis, fascial and muscular injuries and physical imbalances Our goal is to help maximize your capacity for mobility and activity while improving your overall physical performance so you can get back to doing what you love. When it comes to sprains and strains, joint and muscle pain, or post surgery recovery, our physiotherapists, in tandem with our team of movement specialists and Registered Massage Therapists, will help you recover and get back to the active lifestyle that Vancouver is famous for.